With its sun-kissed beaches, crystal-clear waters, and a vibrant blend of southern charm and modern luxury, Santa Rosa Beach, located along Florida's Scenic Highway 30A, is a dream destination for travelers seeking a serene beach vacation.
The region is dotted with a variety of accommodations ranging from boutique inns to luxurious resort hotels, each offering unique amenities and experiences that cater to diverse needs and preferences. Nestled between emerald-green waters and lush longleaf pine forests, these establishments offer guests a perfect blend of relaxation, adventure, and captivating coastal scenery.
Table of Contents
When planning your stay along the scenic 30A, you'll find a hotel or resort to suit every taste, whether you're yearning for a peaceful retreat, a family-friendly environment, or a romantic getaway. Many of these hotels offer direct beach access, allowing you to immerse yourself in the tranquility of the sea whenever you wish.
Moreover, the locality offers a plethora of activities such as water sports, nature trails, shopping, and a thriving dining scene, ensuring an unforgettable stay in Santa Rosa Beach.
How to Choose a Hotel Near 30A
When considering where to stay, here are some key factors to keep in mind:
Location: Proximity to the beach and other attractions is crucial. Look for a hotel that's close to or offers easy access to the beach, dining options, shopping areas, and outdoor activities.
Amenities: Check what the hotel provides. Key amenities might include free Wi-Fi, parking, a pool, dining options, and in-room conveniences like a fridge or coffee maker.
Views: Many visitors prefer rooms with ocean or beach views, although these often come at a premium.
Accessibility: If needed, check if the hotel offers facilities such as ramps, elevators, and accessible rooms for guests with mobility issues.
Family-Friendliness: If you're traveling with children, look for hotels that are family-friendly and provide amenities such as cribs, connecting rooms, or child-friendly activities.
Pet Policies: If you plan to bring a pet, check the hotel's pet policy in advance.
Reviews and Ratings: Reading past guests' reviews can provide insights into the quality of service, cleanliness, and overall experience at the hotel.
PRO TIP: When searching Google.com or Google Maps for hotels near 30A, the vast majority of the search results you'll see are not actually hotels or inns. They are condos and short-term rental houses with unique coastal names.
Below, you'll find our reviews of actual hotels and inns near the Florida Gulf Coast.
Best Hotels & Inns Near 30A
The following are the best hotels and inns near 30A. Locations include Miramar Beach, Sandestin, and Panama City Beach, which lie just east/west of 30A.
30A Inn & Suites
Enveloped in the picturesque TopSail Village on the western edge of Scenic Highway 30-A, the 30A Inn & Suites offers a boutique accommodation experience with 36 uniquely designed rooms and suites. The hotel is within walking distance of the secluded beaches, dune lakes, and towering sand dunes of the TopSail Hill Preserve State Park, and a stone's throw away from Grand Boulevard, Baytowne Wharf, Grayton Beach, and WaterColor.
The hotel is a half-mile from the nearest public beach access, Stallworth Preserve Access, but unfortunately, no rooms offer ocean views. Guests can cool off in the outdoor pool, which is conveniently close to all rooms, although it is not heated. Please note that pets are not allowed, with the exception of service animals, and all rooms are non-smoking. A minimum booking age of 25 is implemented, and rooms are designed for guests aged 12 and above.
Accommodation options range from the Signature King Suite, complete with a king-sized bed, a fully-equipped kitchen, and a private balcony, to the Uptown King Suite and Studio King Suite, each offering distinct decor and amenities. All suites feature free Wi-Fi, a 42″ TV in the living room and a 26″ TV in the bedroom, a fully equipped kitchen, a washer/dryer, and central A/C among other amenities.
The hotel ensures an accessible experience with disabled parking, accessible walkways from check-in/registration to rooms, step-free access in all rooms, and an elevator. Unfortunately, breakfast is not provided but there are numerous options nearby, and while there's no gym on site, guests can avail daily and weekly passes at Grand Fitness, just 3 miles away.
Beach access points vary from Beach Highlands, just ½ mile away, to Topsail Hill Preserve State Park and Dune Allen Region Beach Access. The hotel ensures accessibility with disabled parking, wide hotel hallways, a lit pathway to entrance, and pool with a hoist. Please note that the King Suites do not have roll-in showers.
Watercolor Inn
The WaterColor Inn, a delightful mix of southern charm and modern luxury, sits atop the sandy beaches of Santa Rosa Beach, Florida. A stone's throw away from the bustling Seaside and Rosemary Beach® communities, this family-friendly resort sprawls across 500 acres between the Gulf of Mexico and a coastal dune lake, ensconced in a verdant longleaf pine forest. The inn, designed by architect David Rockwell and boasting a recently renovated lobby, effortlessly combines the laid-back feel of a classic beach house with the sophisticated amenities of a boutique luxury hotel.
The WaterColor experience is a reflection of its stunning locale, from the 60 elegant beachfront guest rooms and suites (plus seven new family suites) to the locally-inspired menus and mesmerizing Gulf views at its restaurants. The resort is crisscrossed by pebbled footpaths that meander through scenic parks and gardens, guiding you to a boathouse, tennis courts, shops, restaurants, and a private beach.
Guest Rooms at WaterColor Inn are expansive, with each 500 sq. ft. room offering views of the coastal sand dunes. Higher floors provide breathtaking vistas of the Gulf of Mexico's emerald-green waters. All rooms come with private balconies adorned with Adirondack chairs, while first-floor Dune View Rooms also include an outdoor cabana shower. ADA Accessible Guest Rooms are available on each floor.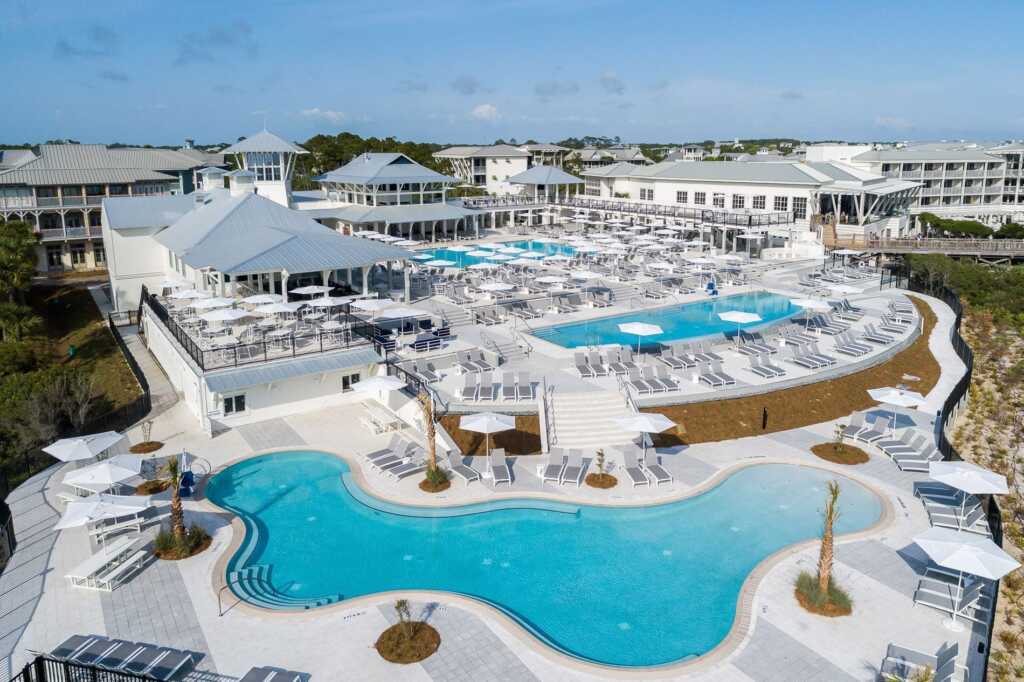 Room categories range from the Premium Gulf View Room on the 4th floor to the Dune View Room on the 1st floor. Room amenities include a King, Queen or two Queen beds, a 55-inch Samsung TV with interactive guest services, an iPod docking station, a Keurig® Coffee and Tea Brewing System, complimentary in-room Wi-Fi, and a mini-refrigerator, among others.
The hotel's Rotunda Suites are generously sized at 600 sq. ft., offering panoramic Gulf views along with stunning sunrises and sunsets. There's only one suite per floor (floors 2-4), making these suites a sought-after choice. The suites come with similar amenities as the guest rooms, along with large, rounded windows and a queen sofa sleeper.
The Lodge 30A at Greenway Station
Set between the pristine white sands of the Gulf of Mexico and the rich pines of the Point Washington State Forest, The Lodge 30A offers a unique coastal experience in the heart of Seagrove Beach in South Walton.
This 85-room boutique hotel, nestled in the heart of the lively Greenway Station town development, provides guests with a gateway to a myriad of unique coastal experiences, be it access to the exclusive Watersound Beach Club®, private championship golf courses, or the extensive network of trails in the Point Washington State Forest.
Drawing inspiration from the stunning natural beauty of its surroundings, The Lodge 30A has created a relaxing and distinctive sense of place that captures the essence of Northwest Florida's Gulf Coast. Combining contemporary coastal style with comfort and convenience, the hotel's accommodations are designed to evoke a home-away-from-home feeling, complete with essential kitchen appliances and the latest technology.
Guests can enjoy a variety of amenities including access to a fitness center, an outdoor pool, and comfortably elevated accommodations. The hotel makes it easy for guests to engage in an array of activities or simply unwind, depending on their preference.
The Lodge 30A offers numerous guest services such as a front desk available 24/7, complimentary self-parking on the property, daily housekeeping services (upon request), a fitness center, a self-service laundry room, resort guest charging privileges, complimentary Wi-Fi, complimentary bottled water at check-in, and a 24/7 market stocked with Starbucks coffee, beer, wine, and more.
Embracing its pristine natural settings, it also champions environmentally friendly practices. This includes offering four electric car-charging stations, employing an energy maintenance system in all guest rooms, LED television sets, a cloud-based operating system, hotel-wide recycling practices, and incorporating natural elements and lighting throughout the hotel.
Greenway Station, located just steps away from the hotel, is 30A's newest hub for shopping and dining in Seagrove Beach. This development, bordering the 15,000-acre Point Washington State Forest, provides easy access to the forest's extensive network of hiking and biking trails. It is home to a variety of establishments like YOLO Boards and Bikes, The Salty Butcher, Local Cantina, Turbo Coffee, Pecan Jacks Ice Creamery & Candy Kitchen, and Canopy Road Cafe, among others.
Whether you are here for leisure or business, The Lodge 30A guarantees a laidback yet luxurious experience, seamlessly integrating the best of the area's amenities.
Hotel Effie Sandestin
Hotel Effie Sandestin is a luxury hotel that stands out from the crowd in Miramar Beach, Florida. Located between the white sandy beaches and emerald green waters of the Gulf Coast, and the living shorelines of Choctawhatchee Bay in Northwest Florida, this beautiful 250-room hotel offers a unique blend of elegance and comfort. Having been nominated for the 2023 Condé Nast Traveler Reader's Choice Awards, Hotel Effie is clearly a favorite among travelers.
Guests can indulge in southern elegance with thoughtfully designed rooms and suites that provide a modern take on a coastal Florida hotel. Each room is beautifully appointed with a variety of amenities to ensure a comfortable stay.
Food lovers will be thrilled by the culinary delights provided by Celebrity Chef Hugh Acheson at the hotel's restaurant. Guests can enjoy locally-sourced food with flavors of the Gulf Coast in an experience that is far from ordinary.
Hotel Effie is also an ideal venue for meetings and events, with over 20,000 square feet of extraordinary space, including a 13,000 square foot ballroom. The hotel's commitment to detail ensures that guests can focus on their event without any concerns.
For a romantic getaway or a dream wedding, Hotel Effie provides a beautiful setting inspired by its breathtaking locale. Guests can enjoy the hotel's Spa Lilliana for soothing treatments and personalized attention. The only rooftop pool on Florida's Emerald Coast is also available at the hotel, offering panoramic views from the bay to the Gulf of Mexico.
Hotel Effie Sandestin offers various room options, including Deluxe Double Queen, Deluxe King, Deluxe King Balcony, Bay View Double Queen Balcony, Bay View King, Grand King Balcony, Bay View Double Queen, Junior King Suite, Executive Double Queen Suite, The Presidential, and Executive King Suite. Each room offers its unique features and amenities to cater to different needs and preferences.
The hotel also provides in-room dining for guests who want to enjoy Chef Hugh Acheson's elevated cuisine in the comfort of their own rooms. From the luxurious linens to the breathtaking views, every detail at Hotel Effie Sandestin is designed to provide an unforgettable luxury hotel experience.
Hyatt Place Sandestin at Grand Boulevard
Set amidst the shimmering beaches of Florida's Emerald Coast and 6.3 miles west of the Dune Allen beach access on 30A, the Hyatt Place Sandestin at Grand Boulevard is a gem of a getaway in Miramar Beach. Nestled in the heart of the Grand Boulevard Town Center, it offers not just proximity to the beach, but also an exciting array of shopping, dining, and entertainment options right at its doorstep.
This hotel houses 84 rooms, including 7 suites, each providing a perfect blend of comfort and modern amenities. Whether you opt for a high-floor room for panoramic views or a spacious suite to unwind, every room promises a delightful stay. Room features include a 55" flat-screen TV, individually controlled heat and air-conditioning, blackout curtains, a minifridge, and KenetMD bath amenities. For guests requiring accessibility, the hotel offers rooms with features such as a lowered thermostat, light switches, peephole and door latch, emergency strobe light, and strobe light smoke detector.
The Hyatt Place Sandestin also boasts a heated outdoor pool and a fitness center for those looking to stay active during their vacation. For business travelers or event planners, the hotel offers 1,647 square feet of flexible meeting space equipped with state-of-the-art audiovisual equipment. On the culinary front, guests can start their day with a complimentary breakfast and enjoy the 24/7 menu, bar, and market for a variety of dining options throughout the day.
The hotel's location provides easy access to attractions like the Topsail Hill Preserve State Park and Destin Harbor. A short stroll will take you to Everkrisp, a restaurant known for its fresh, locally sourced ingredients. Other attractions include Eden Gardens State Park, The Village of Baytowne Wharf, Grayton Beach, and an array of local food and drink options such as Emeril's Coastal Italian, Fleming's Steakhouse, and The Craft Bar.
All in all, the Hyatt Place Sandestin at Grand Boulevard serves as an ideal base to explore and enjoy the vibrant life of Santa Rosa Beach.
La Quinta Inn & Suites by Wyndham Miramar Beach-Destin
10.6 miles west of Dune Allen Beach access, La Quinta Inn & Suites by Wyndham Miramar Beach-Destin is a coastal haven located just minutes away from the picturesque beaches of Miramar. With its prime location, the hotel offers easy access to Silver Sands Premium Outlets and Destin Commons for shopping enthusiasts, while nature lovers can explore the beautiful Henderson Beach State Park and Destin Beaches, located just a few miles away.
Comfort, convenience, and accessibility are the cornerstones of this hotel's 126 guestrooms. Each room comes equipped with a refrigerator, microwave, and flat-screen television for in-room entertainment. To stay connected, guests can utilize the complimentary wired and wireless Internet access. The bathrooms are equipped with either bathtubs or showers and come with hair dryers. Additional conveniences include desks and phones with free local calls.
La Quinta Inn & Suites by Wyndham Miramar Beach-Destin is not just about comfort, it's about providing a full spectrum of amenities to ensure a memorable stay. The hotel houses a bar/lounge and a restaurant offering a variety of cuisines. For fitness and leisure, guests can make use of the gym and pool facilities. Those traveling for business can benefit from the hotel's business center and meeting rooms. Moreover, the hotel is pet-friendly, ensuring your four-legged companions can enjoy the vacation with you. Other amenities include parking, an elevator, laundry services, a 24/7 front desk, and air-conditioned public areas.
Whether you're an avid golfer looking to hit the greens at The Golf Garden of Destin or a beach lover longing for the salty sea breeze, La Quinta Inn & Suites by Wyndham Miramar Beach-Destin is a perfect choice for your stay near 30A in Santa Rosa Beach, Florida.
Residence Inn Sandestin at Grand Boulevard
Nestled in the vibrant heart of Sandestin, the Residence Inn Sandestin at Grand Boulevard offers a unique blend of comfort, convenience, and style. This extended-stay hotel is perfectly positioned to offer guests easy access to popular attractions, including Santa Rosa Beach and Miramar Beach. For those who love retail therapy, Silver Sands Premium Outlets is close by, or you can rent a bicycle from the hotel and explore the local area in a fun, leisurely manner.
The Residence Inn Sandestin at Grand Boulevard offers more than just a place to rest your head. Every morning, guests can start their day right with a complimentary breakfast that includes a variety of healthy, hearty options. For those who like to keep active, there's an outdoor pool and a 24-hour fitness center. The outdoor patio provides a picturesque setting for catching up with loved ones or unwinding after a day of adventure.
The hotel's spacious suites are designed with your comfort and convenience in mind. Each suite is pet-friendly and comes with complimentary Wi-Fi and a fully equipped kitchen. As an additional convenience, the hotel offers a free grocery shopping service, delivering fresh ingredients right to your door. This enables guests to easily prepare their favorite home-cooked meals, adding a touch of home comfort to their stay.
This hotel is only 11 miles from Destin airport, making it easily accessible for out-of-town guests. Complimentary on-site parking is available, as well as an electric car charging station. High-speed Wi-Fi is complimentary for all Marriott Bonvoy Members, with enhanced high-speed Wi-Fi complimentary for all Gold Elite Members and above.
From start to finish, the Residence Inn Sandestin at Grand Boulevard promises an elegant and comfortable stay for any guest visiting the Santa Rosa Beach area.